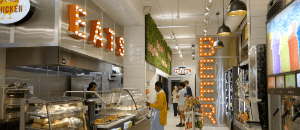 CHARLESTON, S.C. – Refuel Operating Co. LLC, a retail and wholesale fuel distribution and convenience-store business, has opened a new store at the southwest corner of King and Calhoun streets.
The flagship store is the latest in Refuel Market's three new-to-inventory stores for 2022 and marks the 207th location nationwide, a Refuel news release stated.
"We're excited. This location appeals to locals, the city's robust tourism, and college students," CEO Mark Jordan said in the release. "The King Street district has existed for 200 years and Refuel is honored to have a presence in this community. We hope the new location is a cornerstone to the vibrant historic street."
A ribbon-cutting event is planned for Jan. 23.
The building where Refuel is located was constructed in the 1870s, according to the release. Refuel Market preserved the original interior brick and the Italiante style exterior design features of the historic William Enston building. The King Street location offers locally made snacks, gifts, a complete deli program and standard convenience store offerings.
Founded in 2008 by Jordan, a Charleston native, Refuel Market has grown from a local stop to a regional destination, the release stated. Since 2019, it has completed 14 acquisitions totaling 194 stores.
Originally published by CStore Decisions, here.