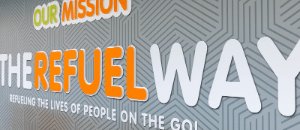 CHARLESTON, S.C. – By acquiring small chains, Refuel has catapulted from a small company with four or five locations in 2019 to a mid-size convenience-store chain with 215 locations and 2,550 employees in five states. Besides the Refuel brand, it also owns the Double Quick brand of convenience stores.
The company's May acquisition of seven Hop-In sites in San Antonio won't be its last. "They look at a lot of deals. We're going to grow through new deals," said William Gully III, vice president of human resources at the Charleston, South Carolina-based convenience-store chain.
With each acquisition comes new employees to be onboarded and trained in the Refuel way and hopefully retained. It starts with explaining the company's mission of "refueling the lives of people on the go," Gully said.
In May, the company launched a Refuel Perks Program for its employees, after conducting research on the best way to recruit, reward and retain team members, Gully said. They receive half-off discounts on foodservice items, 10 free drinks a week and fuel discounts, he said. Refuel is hoping the program will pay off in higher retention.
For those being onboarded from newly acquired c-stores, "Everything's going to change," Gully said. They want to know if it's going to change their benefits, their work schedule and their pay, he said. "The first thing that lights up is growth and career opportunities," Gully told
CSP
.
For the first 90 days, employees from newly acquired locations wear T-shirts from Royal Recognition with Refuel on the front and the slogan, "New name. Same smiling faces," on the back. They receive training in person and through Ready Training Online's videos, he said.
Working conditions and opportunities for advancement improve for many employees from smaller companies, he said. Some workers who didn't have health insurances benefits before will receive them. "That's a big selling point and our newly acquired family members are excited," he said. New employees receive a "swag bag" with a Refuel T-shirt and other items, Gully said.
The company strives to keep employees engaged through its Refuel Rockstar program, where they earn points when they're recognized by another Refuel employee. The points can be redeemed for merchandise and swag. The program started in spring 2022 with kudos on paper cards given to workers who displayed characteristics central to the company's values: convenience, quality, family, growth and business, Gully said. This year, the Refuel Rockstar program is electronic.
"I can recognize a team member on my phone in few minutes and they get it instantly," Gully said. "It's a running feed, and they can see who's been recognized. It's in the moment."
Refuel hosts competitions among district managers' teams to motivate employees. Prizes for the winners can be substantial, such as luxury trips and cars. The goal is to boost morale, Gully said.
While Refuel encourages acquired workers to stay with the company, Gully said turnover in the c-store industry means Refuel is "constantly looking for talent."
About 30% of its employees are walk-ups who apply at a store, and 70% are recruited through ads on Indeed, LinkedIn and other online platforms. "It's a white-hot market for talent," he said. The company hired over 400 people in April and it plans to hire 50 or 60 this month, Gully said.
A fraction of Refuel's locations–about 50–are open 24 hours a day. Most are open from 6 a.m. to 11 p.m., Gully said.
Gully provided more information in a Q&A for CSP:
Question: Why does Refuel feel employee recognition and appreciation are important and worth the time and resources the company devotes to this?
Answer: At our company, we highly value recognizing and rewarding hard work and conduct that aligns with our principles. We thrive on a competitive spirit that encourages growth and results. Our programs are designed to engage all team members, including sales competitions that inspire a healthy sense of competition.
Refuel has stores in five states, and despite the distance between team members; we strive to foster a sense of camaraderie and teamwork. Our ultimate goal is to celebrate all wins, big or small. We firmly believe in investing in our team members, which has paid off. For instance, our new loyalty program and incentivized contests have helped drive sales and boost team morale. We also take pride in our team building through community outreach. Twice a year, our stores raise money for the Leukemia and Lymphoma Society. Team members get very involved in the point-of-sale campaign. They all take pride in the different incentivized programs we run.
Q: How has it paid off?
A: By regularly recognizing and appreciating our employees, we have seen a significant increase in productivity, employee satisfaction and retention rates. Our employees feel valued and appreciated, which has resulted in a positive work culture and a more cohesive team. As a result, we have seen a significant return on investment in terms of increased employee morale and improved business outcomes.
Q: How does it come into play as Refuel acquires other c-store chains?
A: When we acquire new companies, we make sure to integrate their culture with ours from the get-go. We welcome new teams at town hall meetings and honor the legacy of the previous company, aligning their values with ours. We continue this process through touch points like pre-close and post-close training, showing our support as new team members join Refuel. We also make sure to communicate growth and career opportunities with Refuel to the acquisition team members, as we strongly believe in promoting from within. In most cases, the chains we acquire have eight to 12 stores, and as a larger company, we can offer better benefits and a more comprehensive PTO (paid time-off) program. Overall, we strive to upgrade the benefits for all team members compared to what they had before joining Refuel.
Originally published by CSP, here.