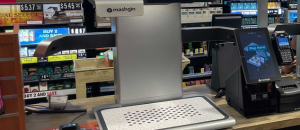 CHARLESTON, S.C. – With self-checkout increasingly becoming a staple throughout the c-store industry, Refuel isn't the only retailer using Mashgin's technology. 
As of April, Mashgin had deployed its platform in over 2,700 stores, including hundreds of Circle K's, as part of Alimentation Couche-Tard's plans to reach 7,000 locations by 2025. Meanwhile, Delek US Holdings launched the technology in 70 Delek c-stores earlier this year, which resulted in a 67% drop in checkout times. BP also debuted Mashgin's platform at various locations, according to Mashgin's website.
At Refuel, customers can use Mashgin's kiosks to purchase packaged items and grab-and-go foods, pay for fuel and use their Refuel Rewards account to earn or redeem points. The kiosks accept credit or debit cards, mobile wallets or cash as forms of payment. 
"Mashgin offers our customers an additional way to check out that ensures they can get back on the road quickly," Jon Rier, chief financial officer for Refuel, said in the announcement. "At the same time, Mashgin's self-checkout frees up our store staff to dedicate even more time to dedicating excellent service and support to our customers."
For Mashgin, partnering with Refuel underscores its plans to expand with more convenience retailers nationwide and internationally, Jack Hogan, senior vice president of strategic partnerships, said in the announcement.
"Convenience store operators need to create a superior shopping experience to build customer loyalty — and advanced technology is a key component," Hogan said. "We are excited to work with Refuel to further improve and innovate the in-store experience for their customers who are on the go."
Self-checkout kiosks have been added inside grocers and big-box stores for decades, and their reach is expanding. In 2021, almost 200,000 new units reached a variety of retailers globally, including many c-stores. A 2022 survey from Dover Fueling Solutions shows many customers expect gas stations and convenience stores to be contactless and fully automated in 20 years.
Founded in 2008, Charleston, South Carolina-based Refuel operates 217 c-stores across South Carolina, North Carolina, Mississippi, Texas and Arkansas.
Originally published by C Store Dive here.